We loved this deal too, but it's no longer available. Check out our other fresh deals here.
Sensations of the Singing Voice
$44 for a Four-Hour Singing Workshop with Sensations of the Singing Voice (value $150)
Value
$150
Discount
70%
You save
$106
This deal ended 5 years ago
Highlights
Polish those pipes with a deal that'll have you and those around you smiling with delight.
Grab a four-hour singing workshop from Sensations of the Singing Voice for only $44 on Saturday 1st December - 10.30am till 2.30pm.
Great for all levels - from beginners to experienced singers and professionals.
For the musically-minded and rhythmically-curious, this four-hour singing workshop provides a thorough introduction into the power of music, voice and chant.
Join in with mock African chant and experience the awesome combination of noise and vibration.
Bring an open mind and plenty of enthusiasm.
The act of singing, whether you're serenading a house plant or a crowd of thousands, has been scientifically proven to have positive effects on the mind and body, helping rewire the brain, lower blood pressure and even leading us to feel chemically happier. If you enjoy putting a smile on your own face through song and want to start spreading that joy around, then today's deal will be like music to your ears.
Get ready to explore the power of music, vibration and your own unique sound with a four hour singing workshop from Sensations of the Singing Voice. Pay just $44 for this exceptional and eye-opening experience. Workshop to be held Saturday 1st December - 10.30am till 2.30pm.
In this four-hour workshop you'll explore the freedom of singing and the elation of confidence-boosting song. By exploring mock African chant, the power of true vibration and solo performances (for those who would like to) guests get to enjoy a full-on musical experience. There's an additional half-hour question and answer session where you'll be able to find out how to go further and sign up to future classes. Participants will create their own personal vibration while also watching and studying their own progress as well as others by learning and singing together. People really do come from far and wide to partake in Charles's workshops, with past participants making the trip all the way from Argentina. For more information, including a list of what to bring along to the workshop, refer to the Facebook page linked below, or to see a video click here.
There will be a 30-minute lunch break during the session. Take a lunch if you wish and water only - no alcohol or hot drinks.
Sensations of the Singing Voice
Based at Berhampore Primary SchoolWellington

Session time: Saturday 1st September - 10.30am till 2.30pm
Business in trade
Conditions
Valid from Nov 15, 2012
Expires Dec 2, 2012
Limit: 25 for you and 25 gifts for others
Subject to availability. Use by 1 person in 1 visit. Must be 13 years or over. Minors to be accompanied by an adult. For use on date specified only. Please bring a pillow and yoga mat or soft blanket to sit on.
See the rules that apply to all deals
More Great Deals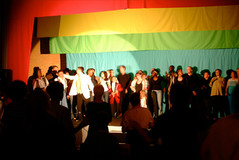 Sensations of the Singing Voice

Voucher Guarantee
Getting more bang for your buck
---
Good news:
GrabOne's Voucher Guarantee means missing out on claiming your deal in time no longer means losing out altogether!
How does it work?
A voucher is valid up to and including the expiry date stated.

If you don't use your voucher before that date for whatever reason, it can still be used towards that service with that business for an additional 30 days.
For example, if you buy a bungy jump deal but don't use it before the expiry date, you can still use the amount you paid for the voucher towards a bungy jump, for another 30 days.
A few things to note:
The GrabOne Voucher Guarantee does not apply to product deals, travel and accommodation-related deals, or time-dependent event deals.

It's always best to use your voucher before the expiry date, so you get the most value for your money. And if you're a bit forgetful, we now automatically remind you if your vouchers are about to expire.

During the extended Voucher Guarantee period, your voucher can only be put towards the service stated on the voucher.

If the offer is seasonal, like a seasonal menu or chimney sweep service, the Voucher Guarantee can be put towards a similar offer at the merchant's discretion.

The conditions on your voucher still apply during the Voucher Guarantee period.