We loved this deal too, but it's no longer available. Check out our other cool deals here.
B Select Tyre and Auto Service
$99 for a Full Service, WOF, Oil & Oil Filter, Battery Analysis & Fuel System Treatment, Wiper Blades, Windscreen Treatment & Tyre Blackening (value $249)
Value
$249
Discount
60%
You save
$150
This deal ended 4 years ago
Highlights
Putting petrol in the car is a start - getting a super sweet service is the real deal you need.
Grab a full service, oil and oil filter, battery charge and fuel system treatment, new wiper blades and windscreen treatment for only $99 from TYREPLUS.
Service the car the right way with the expertise of TYREPLUS at either of two locations.
Improve the economy of your car with a fuel system treatment to clean away the nasties.
Being self-sufficient is cool. Having your own veggie patch is very rewarding - tending to it and eating the results. Even doing the recycling right is a little bit inspiring - cutting down on waste. But you've got to be realistic somewhere along the line. Dismantling the car's engine to service it, after being buoyed with confidence from the tomatoes tasting pretty good, is a gigantic misstep.
Keep your car regular by getting on down to TYREPLUS and snapping up a real deal. For only $99, you can get:
A full service
Warrant of Fitness
Oil and oil filter
Battery analysis and fuel system treatment
New wiper blades
Windscreen treatment
Tyre blackening
Give your car a fighting chance to keep on motoring in good health today at either of their two Hamilton locations.
A fuel system treatment cleans out your car's system. Instead of it coughing up all sorts of goo on the driveway - it's system will be rid of water and gum deposits and the diesel bug. As a result the fuel economy of your vehicle is likely to be the benefactor.
Improve your drive by getting the car serviced. It actually makes good sense. You're going to be commuting about in it, and you rely on it, so why not have it running its best. Putting petrol in the car to get you moving is a given, but that service is a must do too.
B Select Tyre and Auto Service
25 Tawn PlaceTe Rapa (07) 849 5114 527 Anglesea StreetHamilton (07) 839 2176
Business in trade
Opening Hours
Monday - Friday 8.00am - 5.00pm
Please check fine print for any restrictions.
Conditions
Valid from Feb 24, 2013
Expires May 18, 2013
Bookings essential. Not to be used in conjunction with other offers. No refunds or cashback. Service price applies to standard 4 cylinder cars based on 4 litres of oil for the service and a standard oil filter. Standard Wiper Blades (2) Additional charges may apply for non standard parts. Extra charges apply for Premium filters oils if required.
See the rules that apply to all deals
More Great Deals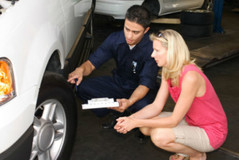 B Select Tyre and Auto Service

Voucher Guarantee
Getting more bang for your buck
---
Good news:
GrabOne's Voucher Guarantee means missing out on claiming your deal in time no longer means losing out altogether!
How does it work?
A voucher is valid up to and including the expiry date stated.

If you don't use your voucher before that date for whatever reason, it can still be used towards that service with that business for an additional 30 days.
For example, if you buy a bungy jump deal but don't use it before the expiry date, you can still use the amount you paid for the voucher towards a bungy jump, for another 30 days.
A few things to note:
The GrabOne Voucher Guarantee does not apply to product deals, travel and accommodation-related deals, or time-dependent event deals.

It's always best to use your voucher before the expiry date, so you get the most value for your money. And if you're a bit forgetful, we now automatically remind you if your vouchers are about to expire.

During the extended Voucher Guarantee period, your voucher can only be put towards the service stated on the voucher.

If the offer is seasonal, like a seasonal menu or chimney sweep service, the Voucher Guarantee can be put towards a similar offer at the merchant's discretion.

The conditions on your voucher still apply during the Voucher Guarantee period.