We loved this deal too, but it's no longer available. Check out our other sweet deals here.
Healthy Kitchen
50% off up to Seven Healthy Cooking Classes (value up to $210)
Value
$30
Discount
50%
You save
$15
This deal ended 4 years ago
Highlights
Feed your mind so you know how to better feed yourself.

Grab your place on a healthy cooking class from Healthy Kitchen for just $15.

Take part in all seven of the Kitchen Things series of classes for $99.
Be welcomed in to a whole new world of nutrition!
Eating the best food along with exercise gives you the best chance of a healthier life. Exercise your brain with the information you need to eat better and maybe live longer. Grab your place on a healthy cooking class from Healthy Kitchen today. Pay just $15 to attend any of the following one-hour classes (or pay only $99 to attend all seven!):
The Green Juice Revolution - Friday April 5th

Join the green revolution and learn to make delicious juices from

nutrient packed greens. Check out the video here.

Superfoods that Keep you Slim - Friday April 5th

Learn about nutrient dense superfoods and how to find them without hiking across the Himalayas.

Are you REALLY gluten Free? - Friday April 12th

Better understand gluten intolorance and how to approach gluten-free living.

The Genius Diet - Truly Healthy School Lunches - Friday May 3rd

Learn how to pack that lunch box with better foods for young minds.

Gluten Free Baking that's Actually Healthy! - Friday May 17th

Avoid the starches, sugars and fats that are crammed into so many gluten-free foods, and learn the simple techiques to eat gluten free

and healthily.

Delicious Raw Foods! - Friday May 31st

Be hands-on and learn the benefits of eating raw foods.

Superfood Smoothies, Sorbets & Bubble Cups Drinks! - Friday June 21st

Make a two minute breakfast or a one minute sorbet. This course will show you how to make drinks you and the kids will love.
Healthy Kitchen present the Kitchen Things series of courses which are designed to introduce you to a whole new world of nutrition in just one hour. Join Deborah for these inspiring classes!
Healthy Kitchen
Classes will be held in Te Rapa, Hamilton.

View the website for more info on the Kitchen Things series of courses: www.healthykitchen.co.nz
Business in trade
Conditions
Valid from Feb 27, 2013
Expires May 27, 2013
No shows become void. Coupon is valid for day or days selected only. Classes will be held in Te Rapa, Hamilton. No refunds. No cashback. Not valid with other offers.
See the rules that apply to all deals
More Great Deals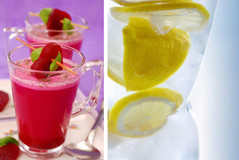 Healthy Kitchen

Voucher Guarantee
Getting more bang for your buck
---
Good news:
GrabOne's Voucher Guarantee means missing out on claiming your deal in time no longer means losing out altogether!
How does it work?
A voucher is valid up to and including the expiry date stated.

If you don't use your voucher before that date for whatever reason, it can still be used towards that service with that business for an additional 30 days.
For example, if you buy a bungy jump deal but don't use it before the expiry date, you can still use the amount you paid for the voucher towards a bungy jump, for another 30 days.
A few things to note:
The GrabOne Voucher Guarantee does not apply to product deals, travel and accommodation-related deals, or time-dependent event deals.

It's always best to use your voucher before the expiry date, so you get the most value for your money. And if you're a bit forgetful, we now automatically remind you if your vouchers are about to expire.

During the extended Voucher Guarantee period, your voucher can only be put towards the service stated on the voucher.

If the offer is seasonal, like a seasonal menu or chimney sweep service, the Voucher Guarantee can be put towards a similar offer at the merchant's discretion.

The conditions on your voucher still apply during the Voucher Guarantee period.