We loved this deal too, but it's no longer available. Check out our other fresh deals here.
The Speight's Ale House Nelson
$20 for a $40 Food & Beverage Voucher (value $40)
Value
$40
Discount
50%
You save
$20
This deal ended 4 years ago
Highlights
Enjoy a selection of your Speight's Ale House favourites.
Grab a $40 food and beverage voucher from The Speight's Ale House for just $20.
Indulge in award-wining beers and excellent wines.
Experience the legendary southern hospitality that makes New Zealand such an awesome place to live.
Come in and see what Nelsonians have been enjoying for over a year now!
Like the 'Speights Ale House Nelson' on Facebook (see link bottom-left) today or join the 'Speight's Mates' Club and go in to win a $150 voucher. Do both and you'll have two entries!
Fine dining throughout the world sometimes throws up some delightful oddities that are just mouthwatering - you can go to Vietnam and drink snake wine; or to Italy and eat maggot-cheese; better yet, you can go to Cambodia to dine on fried tarantulas. Alternatively, if none of these culinary horrors from the rest of the world appeal to your Kiwi palate, you can stay right at home and have a more traditional bite at The Speight's Ale House.
At The Speight's Ale House the only culinary surprise you'll get is rediscovering the deliciousness of a traditional favourite. So grab a $40 food and beverage voucher at The Speight's Ale House and give your palate a pleasant reminder of how good we have it in Nelson.
As the 17th Speight's Ale House in New Zealand, this spot comes as a welcome addition to Nelson's culinary scene. By combining southern hospitality with a comprehensive menu of traditional favourites, The Speight's Ale House offers a dining experience that's both familiar and delectable to its visitors. A wide range of award-winning beer and an extensive wine list has been assembled to keep the adults happy, while kids have an entire section of the menu to themselves. The Speight's Ale House franchise already enjoys a favourable reputation throughout New Zealand, and this new addition simply consolidates the perception Kiwis already have.
The Speight's Ale House Nelson
99 Quarantine RoadCorner of Quarantine & Cadillac RoadNelson
(03) 547 7336

Business in trade
Opening Hours
Monday, Tuesday, Wednesday & Friday 11.00am - late
Thursday 8.30am - late
Saturday & Sunday 10.00am - late
Conditions
Valid from Feb 28, 2013
Expires May 31, 2013
Limit: 5 for you and 5 gifts for others
Bookings essential. Valid: Sun - Thu. R18 for alcohol. 1 voucher per couple. Subj to avail. 1 coupon for up to 3 people; 2 max per group of 4 or more. Any alcohol purchased must also be consumed with food. No refunds. No cashbacks. Not to be used with any other offer.
See the rules that apply to all deals
More Great Deals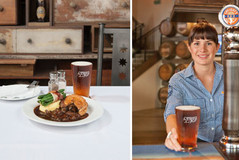 The Speight's Ale House Nelson

Voucher Guarantee
Getting more bang for your buck
---
Good news:
GrabOne's Voucher Guarantee means missing out on claiming your deal in time no longer means losing out altogether!
How does it work?
A voucher is valid up to and including the expiry date stated.

If you don't use your voucher before that date for whatever reason, it can still be used towards that service with that business for an additional 30 days.
For example, if you buy a bungy jump deal but don't use it before the expiry date, you can still use the amount you paid for the voucher towards a bungy jump, for another 30 days.
A few things to note:
The GrabOne Voucher Guarantee does not apply to product deals, travel and accommodation-related deals, or time-dependent event deals.

It's always best to use your voucher before the expiry date, so you get the most value for your money. And if you're a bit forgetful, we now automatically remind you if your vouchers are about to expire.

During the extended Voucher Guarantee period, your voucher can only be put towards the service stated on the voucher.

If the offer is seasonal, like a seasonal menu or chimney sweep service, the Voucher Guarantee can be put towards a similar offer at the merchant's discretion.

The conditions on your voucher still apply during the Voucher Guarantee period.