We loved this deal too, but it's no longer available. Check out our other awesome deals here.
Agroventures Adventure Park
$24 for an Agroventures Adventure Park Experience - Choose One Activity from Swoop, Agrojet, Freefall Xtreme or Shweeb in Rotorua (value $49)
Value
$49
Discount
51%
You save
$25
This deal ended 5 years ago
Highlights
Enjoy one of New Zealand's most extreme sports - just down the road at Agroventures Adventure Park.
Grab a go on the Swoop, Agrojet, Freefall Xtreme or the Shweeb for just $24 at Agroventures Adventure Park.
Fly through the air at 139kph - the swoop is now extra speedy!
Beat the Shweeb World Record and win $1000 - other prizes available for age and country record breakers.
Leaping from buildings, diving off bridges, flying through the air: all these things sound awesome to you. There are two possible options here. One: you're really a superhero — a mild mannered Grabbie by day, action adventurer by night. Or two: you're an adrenaline junkie — plain and simple!
We have your fix of fist-pumping, heart racing, adrenaline-surging, gravity defying adventure right here! For just $24 you can choose your own extreme experience at Agroventures Adventure Park - normally this would cost you $49 but today it's a steal, or rather an action packed heist.
Over 200,000 people have swooped and over 100,000 have taken the freefall since opening.

Once you arrive, you'll be able to choose from four great adventures at one location:
Shweeb: this bicycle race through space, the only one of its kind in the world, recently hit the media, because the Women's World Shweeb record was broken on-site at Agroventures Adventure Park in Rotortua. If you think you've got what it takes to beat the record, then you could be in to win a range of awesome prizes.
Agrojet: as the fastest jet sprint experience in the country, this is a thrilling activity that will max out your adrenaline levels for sure.
Swoop: swing towards the earth from 40m at 139km/h, as you test your fear-threshold on this activity - found nowhere else in the country.
Freefall Xtreme wind tunnel: as the only one of its kind in the Southern Hemisphere, this activity has become renowned for featuring in Coke advertisements on Kiwi television.
Finding it a little hard to choose? Well, don't worry about deciding just yet. Once you get to Agroventures Adventure Park you can view the activities and decide there and then what you want to do. Unlike those hard-to-find mysterious top secret spy bases, the Agroventures Adventure Park HQ is surprisingly easy to get to. Just take a 10-minute drive north of Rotorua City on Paradise Valley Road. And when you're finally done with your thrill fix you can get your retail fix with snacks and cool merchandise available.
*Please note: there are restrictions on height, weight and age so please check the website and the ride to make sure you meet the limitations before you purchase your coupon. Please also note that this offer is not available for Christmas functions, corporate travel, groups or team building activities.
Agroventures Adventure Park
1335 Paradise Valley RoadNgongotahaRotorua
(07) 357 4747, 0800 949 888
reservations@agroventures.co.nz
Business in trade
Opening Hours
Monday - Sunday 9.00am - 5.00pm
Conditions
Valid from Nov 14, 2012
Expires Dec 24, 2012
Limit: 3 for you and 3 gifts for others
Strictly no extensions. Valid for 1 ride on either Swoop, Agrojet, Freefall Xtreme or Shweeb. Not valid for group/corporate/Xmas bookings. Normal booking policies apply. See website for age, weight & height limitations. No cash back.
See the rules that apply to all deals
More Great Deals
Today's Top Brand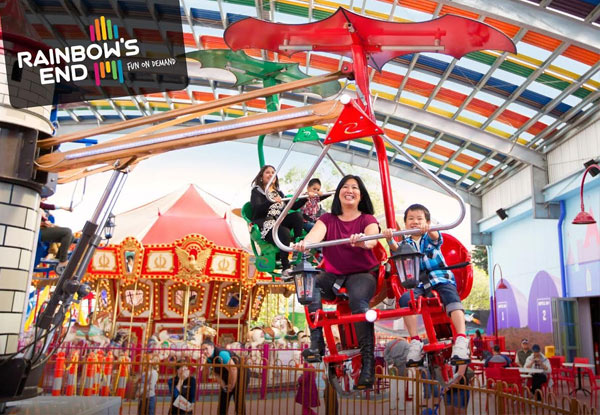 Deals in Other Regions
Taranaki


Voucher Guarantee
Getting more bang for your buck
---
Good news:
GrabOne's Voucher Guarantee means missing out on claiming your deal in time no longer means losing out altogether!
How does it work?
A voucher is valid up to and including the expiry date stated.

If you don't use your voucher before that date for whatever reason, it can still be used towards that service with that business for an additional 30 days.
For example, if you buy a bungy jump deal but don't use it before the expiry date, you can still use the amount you paid for the voucher towards a bungy jump, for another 30 days.
A few things to note:
The GrabOne Voucher Guarantee does not apply to product deals, travel and accommodation-related deals, or time-dependent event deals.

It's always best to use your voucher before the expiry date, so you get the most value for your money. And if you're a bit forgetful, we now automatically remind you if your vouchers are about to expire.

During the extended Voucher Guarantee period, your voucher can only be put towards the service stated on the voucher.

If the offer is seasonal, like a seasonal menu or chimney sweep service, the Voucher Guarantee can be put towards a similar offer at the merchant's discretion.

The conditions on your voucher still apply during the Voucher Guarantee period.