We loved this deal too, but it's no longer available. Check out our other fresh deals here.
The Transformation Camp
$65 for Six Weeks of Indoor &/or Outdoor Circuit Training or $70 for Seven Weeks (value up to $299)
Value
$299
Discount
78%
You save
$234
This deal ended 4 years ago
Highlights
Find out what's been missing from your life.

Grab six weeks of indoor and/or outdoor circuit training from Total Body Transformation Camp for only $65, or $70 for seven weeks.

Pick from 11 Total Body Transformation locations across Auckland, and enjoy classes from Monday to Friday.

Reinvigorate your life with a blast of enthusiasm and energy.
Michelangelo's David didn't start out with chiselled abs and rock-hard pecs it took years of hard-work and dedication to transform his body to perfection.
Now's your chance to sculpt your body by grabbing one of the following deals from Total Body Transformation Camp:
Pay $65 for six weeks of unlimited access to one location, starting on Monday the 6th of May.
Pay $70 for seven weeks of unlimited access to one location, starting on Monday the 29th of April.
Build confidence, energise your life and kick-start that healthy regime you've been banging on about. The chaps at Total Body Transformation Camp are dedicated to guiding you through this exciting and inspirational journey. Choose from 11 Total Body Transformation Camp locations across Auckland and slot this fabulous opportunity into your week. With classes offered every day from Monday to Friday, you'll definitely be able to find a slot that fits into your personal schedule. This is the perfect environment to meet like-minded people and have fun while working on your health and fitness. It's a win-win situation! Click here to view the locations, all scroll down below.
Participating Total Body Transformation locations:
All classes run from Monday through Friday (except *)
Freemans Bay/Ponsonby
Freeman's Bay Community Hall,

52 Hepburn Road,

6.15am, Indoors
Mount Roskill
55 Arundel St,

TriStar Gymnastic Centre,

6am, Indoors
Goodwood Heights, Manukau
64 Everglade Drive,

Everglade School,

6am, Indoors
Newmarket
Mt Eden Ballet Academy,

2 Manukau Road,

5.45am & 6.45am, Indoors
Glenfield
North Harbour Gymnastic Centre,

Silverfield,

6am & 7am, Indoors
Howick
Howick Gymnastic Centre,

15 Ben Lomond Crescent,

6am, Indoors
Rosedale
Cheer Elite Academy,

4B atlas place (Off constellation drive),

6am, indoors
Kelston
Kelston Girls' College,

Cnr Great North Road and Archibald Road,

6am, 6pm and 6.30pm Indoors
* Farm Cove/Howick
Wakaaranga Primary School,

18 Butley Drive,

6pm and 6.30pm, indoors,

(Monday through Thursday only)
Browns Bay
Freyberg Park,

6pm and 6.30pm, Outdoors
Manukau
Everglade Park,

6pm & 6.45pm, Outdoors
The Transformation Camp
Locations across Auckland
Check website for location near you
0800 655 369
Visit http://goo.gl/pKgQiH for timetable and location information.
Business in trade
Conditions
Valid from Apr 29, 2013
Expires Jun 10, 2013
Bookings essential before the camp starts. Subject to availability. Weeks must run consecutively. Minimum age: 18 years. No refunds. No exchanges. No cash backs. Not to be used with other offers.
See the rules that apply to all deals
More Great Deals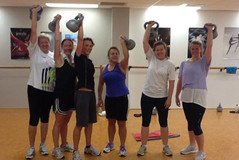 The Transformation Camp

Voucher Guarantee
Getting more bang for your buck
---
Good news:
GrabOne's Voucher Guarantee means missing out on claiming your deal in time no longer means losing out altogether!
How does it work?
A voucher is valid up to and including the expiry date stated.

If you don't use your voucher before that date for whatever reason, it can still be used towards that service with that business for an additional 30 days.
For example, if you buy a bungy jump deal but don't use it before the expiry date, you can still use the amount you paid for the voucher towards a bungy jump, for another 30 days.
A few things to note:
The GrabOne Voucher Guarantee does not apply to product deals, travel and accommodation-related deals, or time-dependent event deals.

It's always best to use your voucher before the expiry date, so you get the most value for your money. And if you're a bit forgetful, we now automatically remind you if your vouchers are about to expire.

During the extended Voucher Guarantee period, your voucher can only be put towards the service stated on the voucher.

If the offer is seasonal, like a seasonal menu or chimney sweep service, the Voucher Guarantee can be put towards a similar offer at the merchant's discretion.

The conditions on your voucher still apply during the Voucher Guarantee period.