We loved this deal too, but it's no longer available. Check out our other sweet deals here.
The Clean Auckland
$18 for a Hand Wax or Express Exterior Valet, $33 for a Deluxe Valet or $51 for a Supreme Valet - Services Vary Across Nine Auckland Locations (value up to $85)
Value
$30
Discount
40%
You save
$12
This deal ended 4 years ago
Highlights
Get your car cleaned while you shop 'til you drop.

Grab a hand car wax or express exterior valet for $18, a deluxe valet for $33 or a supreme valet for only $51 at The Clean—nine Auckland locations.

Choose from one of several different offers across The Clean's nine Auckland sites. Please note that all offers are not available on all sites.

Try a company that uses less water, more biodegradable products, and better drainage.

Make the most of state of the art technology, and fast, friendly service.
When you wash your car in the driveway, you're not just soaping your car. When you wash your car at home, soap goes down the storm drain and into the harbour, where it pollutes our clean and green waterways. Cleaning your car at home also takes far longer than using commercial facilities. By using eco-friendly wash products within contained wash environments, The Clean manages to conserve water and maximise environmental friendliness.
The Clean has a huge commitment to providing high quality environmentally-responsible wash services to their customers. If you're keen to try them out for yourself, grab a hand car wax or express exterior valet for $18, a deluxe valet for $33 or a supreme valet for only $51 at The Clean—nine Auckland locations.
Hand wax includes:
Full-car wax and polish by hand
Hand buff
Note: wax can only be applied to clean vehicles
Express exterior valet includes:
Wheel rims wiped and tyre black

Full wash and dry

Cleaning of exterior windows
Deluxe valet:
Wheels rims wiped and tyre black

Full wash and dry

Clean door jambs

Cleaning of exterior and interior windows

Cleaning and dressing of interior dashboard and console

Interior vacuum including the boot

And to top it all off, interior fragrance on request
Supreme valet:
Full wash and polish
Complete dry
Clean exterior windows
Protective tyre treatment
Towel door frames
Interior vacuum incl boot
Clean dash and console
Clean interior windows
Interior fragrance on request
Acid wheel wash
Clean and dress interior plastics
Protective bumper treatment
Worried about the impact your car wash could have on the environment? Never fear: The Clean is totally committed to protecting the environment by using less water, better drainage and more bio-degradable products than other similar companies.
The Clean Auckland
The Clean DowntownDowntown Carpark Building31 Customs Street WestMap It
The Clean, Westfield AlbanyCovered car parking area underneath Cinema entranceAlbanyMap it The Clean, Westfield West City Carpark building, Edsel Street entranceHendersonMap it The Clean, Westfield ManukauUpper Level of the covered carparkEither Ronwood Avenue or Amersham Way entrancesManukau CityMap it The Clean, Westfield PakurangaCarpark underneath The WarehouseReeves Road entrancePakurangaMap it The Clean, Westfield GlenfieldCarpark Level 2 (Main supermarket entrance level)Downing Street entranceGlenfieldMap it The Clean Shore CityBehind Les MillsRooftop CarparkANZAC Street ramp entranceTakapunaMap it The Clean, Westfield St LukesMorningside Drive EntranceSt LukesMap it The Clean, Westfield NewmarketCarpark Morrow Street EntranceNewmarketMap it
Business in trade
Conditions
Valid from Mar 8, 2013
Expires Apr 30, 2013
Bookings recommended. Station wagons & 4WDs incur an extra $15 charge payable at the wash site direct. Excessively dirty vehicles will incur extra charges. No refunds, no cash back, not to be used with other offers. Valid only at location specified on coupon.
See the rules that apply to all deals
More Great Deals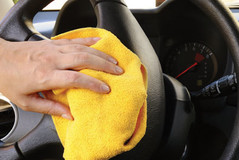 The Clean Auckland

Voucher Guarantee
Getting more bang for your buck
---
Good news:
GrabOne's Voucher Guarantee means missing out on claiming your deal in time no longer means losing out altogether!
How does it work?
A voucher is valid up to and including the expiry date stated.

If you don't use your voucher before that date for whatever reason, it can still be used towards that service with that business for an additional 30 days.
For example, if you buy a bungy jump deal but don't use it before the expiry date, you can still use the amount you paid for the voucher towards a bungy jump, for another 30 days.
A few things to note:
The GrabOne Voucher Guarantee does not apply to product deals, travel and accommodation-related deals, or time-dependent event deals.

It's always best to use your voucher before the expiry date, so you get the most value for your money. And if you're a bit forgetful, we now automatically remind you if your vouchers are about to expire.

During the extended Voucher Guarantee period, your voucher can only be put towards the service stated on the voucher.

If the offer is seasonal, like a seasonal menu or chimney sweep service, the Voucher Guarantee can be put towards a similar offer at the merchant's discretion.

The conditions on your voucher still apply during the Voucher Guarantee period.